This page is a guide to complete renewal tasks for organisations.
Support staff can gain access to their organisations information by contacting portalsupport@qls.com.au for an account to be created and portal access given with the appropriate permission. 'Managing partners' automatically have access.
Go to the new myQLS and log in. Remember your new log in is an email address.
Step 2: Click 'Organisations' an the blue arrow for an 'edit' link.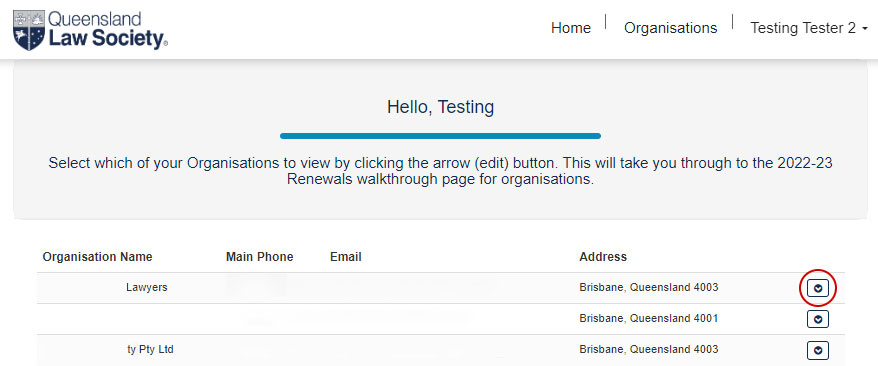 Step 3: See your organisation's profile and the renewals walkthrough tab
Here you see:
Your Law Practice Profile


Your employee listing


Westpac consent


PII Questionnaire (closed now)


Your PII Levy Calculation Sheet


Your Top Up Quotes and Application form. Top Up invoices and saved versions of the PDF applications are available by clicking the Top UP tab.


Selection the items you want to pay for. Press SAVE at the bottom of the page. You will see the screen change. Go back to the organisations tab, select the organisation and click the edit button to return to the renewals walkthrough.

You must do this before generating the Payment Summary Sheet.

Generate the Payment Summary Sheet only when you are certain that you have the correct number of practitioners AND you have save your preferences AND you have completed the top application making a quote selection.

If you are an ILP and want to take out ILP membership go to the ILP tab and make your selection before generating the Payment Summary Sheet




Click the link for the PII Invoice


Click the link to go to the Westpac portal


Click the link to see the Practitioner Renewal Status to see how many of your practitioners have completed their renewals.


ILP Membership if you are an ILP, the ILP can take out membership. Make your selection before generating your payment summary sheet.